Graduation Information
---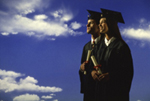 Spring Commencement is May 2, 2020.
Michigan Tech Cap and Gown Guidelines

Cap & Gown Orders
The order forms for caps and gowns are not available at this time.
Cap & Gown Pricing
Cap and gown pricing is not available at this time.
Ticket Orders
For commencement ticket information, please visit www.mtu.edu/commencement/tickets.
---
Did You Know?
You will be wearing "green" gowns - not in color, but in spirit! They will be black, as usual, certified as being made from 100% recycled post-consumer materials. Every Herff Jones Renew gown saves 29 bottles from the landfill, saves the energy of 1/2 gallon of gas, and decreases the effects of global warming through 1.5 lbs. fewer CO2 emissions.
Each degree has a different style gown. Masters and PhD students may not wear Undergraduate garb. See the graphic below for an example of how your gown should look.

---
Order graduation announcements HERE.
---
For more information about commencement, visit www.mtu.edu/commencement